Oriental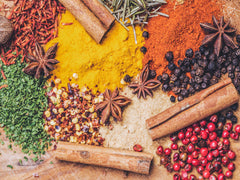 The Oriental(Amber) Family
Oriental otherwise known as "amber" family covers scents featuring prominent notes from materials associated with the East such as frankincense, myrrh and vanilla. Think of decadent scents, rich balsams and aromatic resins, perfect for eveningwear.
Subfamilies
Citrus Amber: Unlike a Floriental, the amber accord features a pronounced citrus flower note.
Oriental Amber: A particularly classical oriental fragrance featuring soft and warm notes of amber.
Floriental: A refined blend or oriental and floral notes that create a fresh fragrance with a spicy and rounded finish.
Floral Amber: Set on an oriental base, variations of floral head notes play with either fruity or woody heart characteristics.
Spicy Oriental Amber: Hot spices such as cinnamon and cloves are blending in harmony with woods and resins.
Oriental Gourmand: Warm oriental compounds are combined with enriched sweet essences of caramel, vanilla and honey.
Woody Oriental Amber: Traditionally rich oriental essences enrich a distinctively warm or dry woody base.