Floral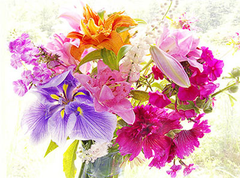 The Floral Family
The Floral fragrance family is filled with classic scents. Nature has kindly provided scent specialists with a blooming marvelous number of floral fragrances, thanks to all of the different flowers in the world. Floral scents can be either single flower notes or bouquets .
Subfamilies
Soliflore: Consists of a single floral note used to mimic the naturally occurring scent.
Floral Bouquet: A concoction of several floral notes. This creates a complex composition and virtual bouquet of flowers.
Floral Aldehyde: The build is extended by adding powdery and woody animal notes. These are usually accompanied by a citrus and floral head.
Floral Aquatic: A floral bouquet is combined with cool sea-breeze notes.
Floral Fruity: A comparatively modern subfamily thanks to advances in aromatic compounds. Expect a floral body with fruity notes.
Floral Musk: A heavy musk presence accompanies the floral fragrance. Potential addition of woody and aldehydic notes.
Floral Green: A sharp freshness is added to the composition. Presence of green notes such as crushed leaves or pine.
Floral Woody:

 

Floral composition followed by woody undertones.