Citrus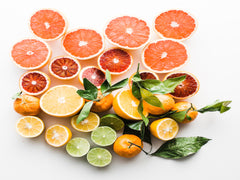 The Citrus Family
 A fragrance belongs to the citrus family when the citrus facet is presented in large quantities in the fragrance. Citrus notes are used through all the seasons. 
Subfamilies
Aromatic Citrus:

 

Aromatic notes incorporated into a citrus build.
Chypre Citrus:

 

More modern base for eau de cologne fragrances. Added fresh notes that are floral in head with a mossy base.
Gourmand Citrus:

 

Sweet citrus combined with rounded notes of vanilla, caramel and sweet flowers.
Musky Citrus:

 

Heady musky properties added to citrus composition that feature floral and woody notes.
Spicy Citrus:

 

Added spiced notes including clove, nutmeg and cinnamon.
Woody Citrus:

 

Citrus structure with a woody base. Can feature barely noticeable light floral notes.